Campground Rates
Map of the Campground
2017 Rates
Daily Rates (Sunday-Thursday)
Electric and Water $35.00
Electric, Water and Sewer $38.00
Air Conditioning or Electric Heater $5.00
Extra Adults (Age 18 and older) $5.00
Weekends and Holidays Rates (Friday-Saturday)
(Holidays include Memorial Day, 4th of July, Labor Day and all of the Halloween Parties)
Electric and Water $39.00
Electric, Water and Sewer $42.00
Weekly Rates
Water and Electric 7 nights $273.00
Water, Electric and Sewer 7 nights $294.00
NOTICE:
**We try to honor site requests, but they are not guaranteed. We try to keep groups together, but if necessary, we may have to make site substitutions. Site substitutions will be made if a previous occupant of a site extends his visit.
We apologize for any inconvenience.
Visitors – per day $3.00
Visitors – band nights, holidays, overnight $5.00
ALL VISITORS MUST BE REGISTERED AND PAY AT OUR OFFICE UPON ARRIVAL. ALL VISITORS MUST OBTAIN A PARKING PASS AND PARK IN THE DESIGNATED PARKING LOT FOR VISITORS.
Check In – 3:00 p.m.
Check Out – 3:00 p.m.
Rental Trailer/Cabin Check In – 3:00 p.m.
Check Out – 11:00 a.m.
Early Arrival ½ day fee. Extra Charge for late stay (past 3:00 p.m.)
Club Discounts:
Given for 10 or more units staying 2 or more nights.
CLUB DISCOUNTS DO NOT APPLY ON MEMORIAL DAY, 4th OF JULY, OR LABOR DAY.
Ask about our "Stay 10 nights, get a night free" special. DOES NOT APPLY TO TRAILERS OR CABIN.
**** ALL RATES SUBJECT TO CHANGE ****
Camping Gift Certificates Available! Ask about them at Office.
NOTICE TO CAMPERS
No outside fire wood , especially with nails
and no drones permitted in our campground.
Deposit Required: Weekend – 1 night's fee; Week – 2 full night's fee; Holidays – MUST BE PAID IN FULL. NO EXCEPTIONS. Camping fee is due within 5 days of date the reservation is made. Confirmation sent only if a SASE is included with deposit.
EFFECTIVE June 2017:
We NO LONGER ACCEPT CREDIT CARDS (There is an ATM on premises for your convenience)
Bad check policy: $50 fee
Cancellation Policy:
A full refund will be given, minus an $8.00 administration fee for cancelled reservations. To receive a refund, you must cancel at least 14 days prior to your arrival date. Cancellations made less than 14 days prior to arrival date and no shows will lose their entire deposit.

Camping Cabin & Trailer Rentals: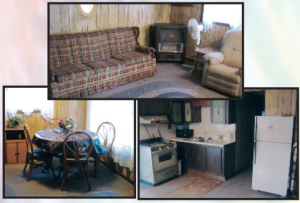 $85.00 per night. Cabin and trailers sleep a family of 4. Must supply own linens, cookware, dishes, towels, utensils, food, etc. $85.00 Security deposit must be paid in advance. Check In time is 3:00 p.m. and Check Out is 11:00 a.m. NO PETS OR SMOKING ALLOWED IN CABIN OR RV RENTALS. Our policy is that if a camper brings a pet in or around the rental unit or cabin, they will be asked to leave without a refund.
Cabin and Trailer Cancellation Policy:
Refund given with 1 month notice. Less than 1 month requires re-rental of cabin or trailer for refund. No less than 2 weeks notice. $8.00 handling fee for each canceled reservation.
We will NOT honor discount clubs on weekends, holidays or special events.
Discounts given to those with AAA 10% AARP 10% ESCAPEE 15% and FMCA 10%. Please inform us of your membership at the time of reservation so we can apply your discount before payment. Refund cannot be given if you tell us you have a membership after payment is received. Discounts are not honored when camping is paid for with credit card. Camping must be paid for with either cash or check in order to receive discount.
Credit cards are required when reserving a site over the telephone. Payment is then due within 5 days of making the reservation.
When paying via personal check in person, please bring a valid Driver's License to the office with you.
*ALL RATES ARE SUBJECT TO CHANGE
No gas or electric powered vehicles, scooters, ATVs or metal detectors allowed in campground.
PA State Law requires all children age 12 and under to wear bike helmets . If you are renting one of our bikes, bring your helmet or you can borrow one from the store.